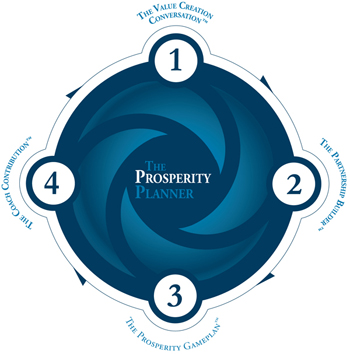 Planning for a secure and prosperous future requires more today than any other time. With our unique approach, we provide the personalized care, professional expertise and active support to ensure your dangers are eliminated and opportunities captured. With "The Prosperity Planner" we provide an uncommon breadth of service to guide you in all areas of your financial well-being including wealth and risk management, tax and estate planning and active investment advice. Take the next step and plan for your prosperity.
STEP ONE:
The Value Creation Conversation™
Focus on the future. Your vision and priorities are the center of our process. In this first step, we learn about the future you want, your commitment to achieving it and map it to our process-driven capabilities. We introduce you to our client-centered philosophy and identify which of our two service models would benefit you the most.
STEP TWO:
The Partnership Builder™
Together we're better. Knowing your current situation helps us determine how best to help you reach your desired future. In step two, we gather the necessary information to create a comprehensive and customized plan by evaluating your unique needs and personalized preferences.
STEP THREE:
The Prosperity Gameplan™
Activate your plan. Your customized Prosperity Gameplan is introduced. In step three, we walk you through the strategies and options that will help you reach your goals. With your confident consent, we put the wheels in motion, focused on your future.
STEP FOUR:
The Coach Contribution™
Serve as advocates. An active plan performs best when it is reviewed regularly, and in this step we draw from established resources, capabilities and experience to keep your gameplan aligned with your desired future. Through consistent communication and unlimited availability, we make your prosperous future our business.